Air Travel? Look here to find the Best Seat and great Ticket Prices
Find the Best Seat on the Plane
Exit MyGoz2→ Seat Guru by TripAdvisor
Find Great Ticket Prices
Do you really want to travel in that cramped cabin with mystery meals, screaming babies and a class trip for teenagers?
Compare the fare! So often the Business Class experience is nominally more expensive than the rising Coach fares with their nickel-and-dime add-ons and ever-changing baggage fees.
Business Class is not much of a splurge when you consider the relaxing lounge with food and drink, roomy seats in-flight, most of which become beds, and the attentive service. Arrive rested rather than frazzled - and you will get so much more from your vacation dollar.
Business and First Class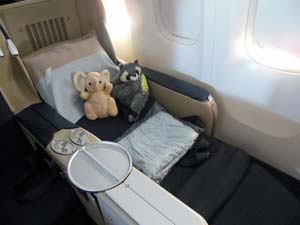 Exit MyGoz2→ AlphaFlightGuru

Brellie's favorite agent is Nick. So, be sure to ask for Nick and let him know that Brellie sent you. You can e-mail nick at nick@alphaflightguru.com or call Nick at 650-763-3486.