This site is enabled with Access Keys
Return to France Home
Plan - Pack - Go - Enjoy
The Brellie Way
Language
Time | Counting | Measurement Units | Directions | Food and Restaurant | Accommodations
Brellie helps you overcome the challenges of a foreign language. Some everyday differences include telling time, the temperature outside, measuring and weighing. How do you find your way? Do you know left and right or north and south? What does that menu say? How do you ask for a room with a shower? How much does it cost? All this and more, including a downloadable, tri-fold brochure you can take with you to the restaurant.
Time
Use the 24-hour clock, just like in the military. This is the most common in France.
Morning? 8:00 am looks like 0800 and the French say "huit heure".
Evening? 8:00 pm looks like 2000 and the French say "vingt heure".
France is usually 6 hours ahead of United States East Coast time. France changes to daylight savings time but rarely on the same day as the U.S.
Compare the times:
When it is 8:00 am in New York City, it is already 2:00 pm in Paris.
When it is 8:00 pm in New York City, it is usually 2:00 am the next day in Paris.
Why, usually? Because France and the United States both observe Daylight Savings Time in the Spring. However, the two countries do not observe the change in hour on exactly the same day. If you travel during the time changes in Spring and Fall, be sure to double-check your reservations for correct times in both countries.
Counting
Combien? - How much or how many?
1-un, 2-deux, 3-trois, 4-quatre, 5-cinq, 6-six, 7-sept, 8-huit, 9-neuf, 10-dix,
11-onze, 12-douze, 13-treize, 14-quatorze, 15-quinze, 16-seize, 17-dix-sept, 18-dix-huit, 19-dix-neuf,
20-vingt, 30-trente, 40-quarante, 50-cinquante, 60-soixante, 70-soixante-dix, 80-quatre-vingt, 90-quatre-vingt-dix,
100-cent, 1000-mille
Measurement Units
Centimeters There are 2.54 centimeters to 1 Inch. From centimeters to inches, multiply by 0.3937.
Meters There are 0.9144 meters to 1 Yard. From meters to yards, multiply by 1.094.
Kilometers There are 1.609 kilometers to 1 Mile. From kilometers to miles, multiply by 0.6214..
Kilograms There are 0.4536 kilograms to 1 Pound. From kilograms to pounds, multiply by 2.2046.
Cooking Temperatures
225°F = 110°C = Gas Mark 1/4
250°F = 120°C = Gas Mark 1/2
275°F = 135°C = Gas Mark 1
300°F = 150°C = Gas Mark 2
325°F = 160°C = Gas Mark 3
350°F = 175°C = Gas Mark 4
375°F = 190°C = Gas Mark 5
400°F = 205°C = Gas Mark 6
An anecdote from Brellie
Momy was jet-lagged when she went to the store the day we arrived. She ordered a half-kilo of rillettes. What a surprise when she received a gigantic amount! She meant a half-pound but forgot to convert. A half-kilo, which is more than a pound, is a LOT of rillettes to eat.
Directions
Be careful with straight and right; they are similar!
Left, Straight, Right
← left = à gauche ←
straight = tout droit
→ right = à droit →
North, East, West, South
↑ north = nord ↑
→ east = est →
← west = ouest ←
↓ south = sud ↓
Food and Restaurant
Downloadable Tri-Fold Brochures
Download and print yourself. Select letter-size, landscape, 2-sided printing, flip on short side options.
Tri-fold Food and Drink Translation | PDF | 112kb
Tri-fold Food and Drink Translation | Microsoft ® Word | 46kb
Bottled water is popular in French restaurants. They serve both sparkling and still bottled water. There is a charge for bottled water. If you just want tap water, order a carafe d'eau. And, yes, it is safe to drink.
The word for menu is carte. Most restaurants have fixed-price meals of 3 courses or more. Fixed-price is prix-fixe in French. The confusing part is that this multi-course prix-fixe meal is usually called a menu. There are usually several choices of prix-fixe meals or menus on each restaurant's carte. You can also order à la carte, which means ordering items individually from the carte.
It is generally a better bargain to order one of the available multi-course fixed-price meals (a menu). However, do not expect any alterations or substitutions to the planned courses.
Preview Tri-Fold MyGoz2 Food and Drink Translation Brochure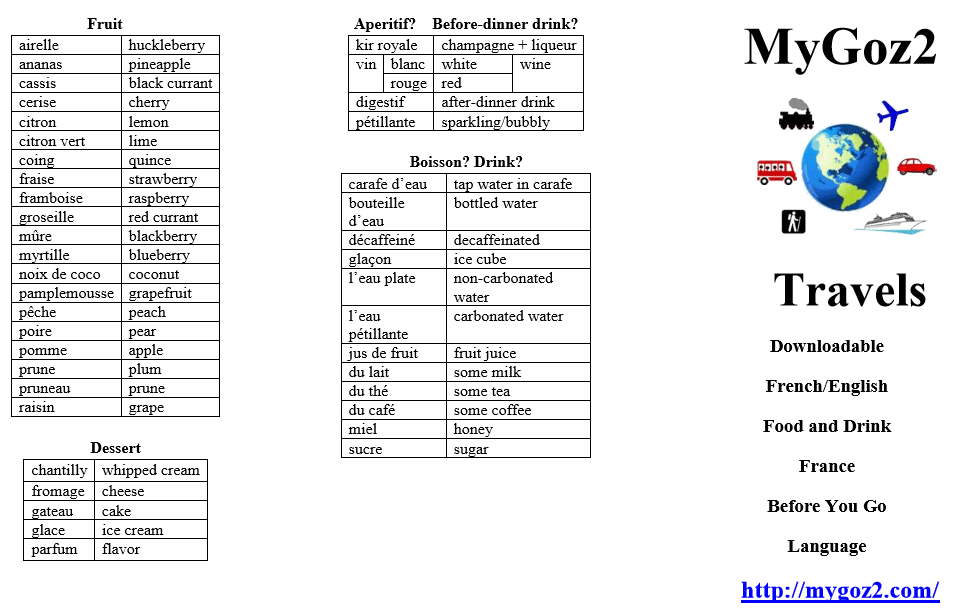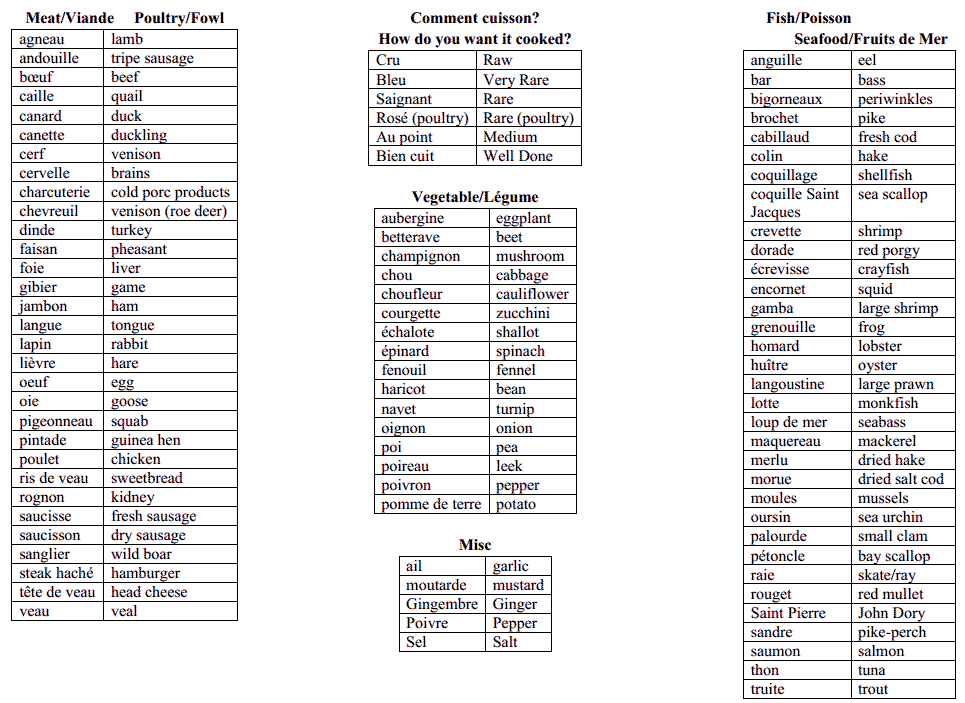 Accommodations
Breakfast
It is customary to be asked if you want breakfast the next morning when checking into a place that provides it.
Be aware that this breakfast, petit déjeuner usually comes with an additional charge.
Inquire about the charge and about what is included and make your decision.
Typically, French breakfasts resemble a U.S. Continental Breakfast. Don't expect eggs or bacon or waffles!
Bathroom
Shower curtains are rare in France, although recently they are appearing more frequently.
Shower heads are usually not installed on the wall. Look for a flexible hose at the spigot with a shower head at the end. Yes, you hold it in your hand.
A wash cloth is considered a personal item. Expect a bath towel in your hotel room but not a wash cloth.
Windows and Shutters
Windows do not have screens. Expect bugs if you leave your window open.
Use the shutters. They are functional items in France and not decorative like so many in the U.S.
Close the shutters at night and open them in the morning. It also works, somewhat, to close the shutters with the window open to reduce bugs from outdoors and still benefit from a breeze.
Which Floor?!
The ground floor is considered at Level 0 in France.
When you climb stairs or take an elevator to the floor above ground level, it is Level 1.
France: Ground Floor = 0; U.S.: Ground Floor = 1
France: Floor above Ground Floor = 1; U.S.: This is 2.
Air Conditioning
Don't expect air conditioning, called climatization or clime, to work unless it is August. For some reason, even if it is sweltering hot outside and air conditioning exists, French hotels often don't turn it on until August. There are plenty of exceptions; just don't expect it.
French Words You Need to Know
Here are a few words that should help you make reservations that work for you.
night = nuit
How many nights? Combien de nuit?
bedroom = chambre
Do you have a room? Avez-vous une chambre?
bed = lit; single bed = lit simple; double bed = grand lit
shower = douche
with a shower? avec une douche?
bathtub = bain
with a bathtub? avec un bain?
breakfast = petit déjeuner
price = prix
the price? le prix?
cold = froid; hot = chaud
Hot and cold water handles are marked F (froid/cold) and C (chaud/hot). Note the confusing letter C.
on/start = marche; off/stop = arrêt
Starting/stopping a heater or any machine might use M and A. More commonly, start/on is marked with a single line (|) and off/stop is marked with a circle (O).